Online Trainer Certification
Reach a Growing Audience
Make a Difference in Your Community
JOIN FOUNDER & FITNESS EXPERT Celeste Carlucci for a two-day training workshop.
Come expecting high energy, high content, high involvement, and hands-on training and step-by-step instructions in how to use the evidenced-based and proven Fall Stop…MOVE STRONG™ fall prevention method.
Most of all, upon certification, expect to be able to immediately use the 12-week program to help prevent falls in your community.
SPRING TRAINING
Date: Coming this Fall
Location: Online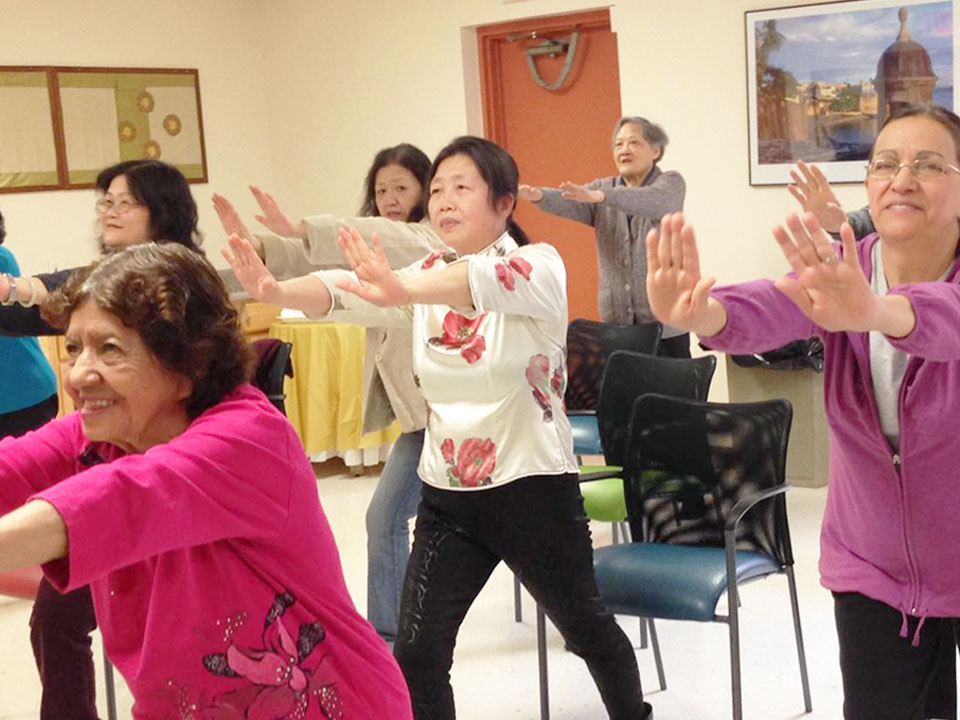 Certification qualifies you to set up and conduct Fall Stop…MOVE STRONG™ beginner classes for older adults in your community, collect data to demonstrate effectiveness, and market your program as approved by Fall Stop…MOVE STRONG™. You will learn how to create your own business, establish a profitable fee structure, and acquire needed insurance. You will also receive marketing through the FSMS website, and email support.
One of our most well attended programs. FallStop is going strong. Even in bad weather we get a large crowd of 15-20 people most days. They are doing the more advanced level and there is a large age diversity in the group.
–BONNIE LUMAGUI, LCSW
Director, NYC Co-Op Village NORC
The training more than met my expectations- I learned so much in a very short time.
–GALE L.
I was thoroughly delighted with and highly recommend the Level 1 Training for Fall Stop/MOVE STRONG™. While my goal is to bring the full program to Brooklyn, NY, my immediate result was to incorporate aspects of the program into my personal training and Pilates sessions as most of my clients are in their 60s or 70s. This program is a MUST for Boomers!
–MARY F.
Exceeded my expectations- great training! You really cover all the basics of posture, gait, system changes as we age etc. in an efficient understandable format.
–GUIQIN C.
Training was not only helpful but fun. Thank you.
–KAREN A.
The training is very comprehensive with great resources. Celeste and Julie are very warm and present the material very effectively. It was helpful to sit in on zoom classes as part of the training. Thank you.
–AMY M (OT)
Great course- participating in the FSMS community class was very helpful! I look forward to getting started.
–BETH C.
The classes have been going well. The format I use is to first do the Fall Stopper exercises with the class, then take them into the hallway to do agility walks together. The improvement is fantastic…as seen when we perform the post Functional Reach Test…the average improvement in 10 weeks is 4-6 inches!
–CONNIE LEDDER
Recreation Director, Ridge Oak Senior Housing
I love the combination of targeted physical exercises and education on fall prevention. And the joyful/social aspect.
–JESSICA M.
We are having a great time with the FSMS Program exercises. We have 3 classes a week, M-W-F. The residents are excited, serious, confident, eager to learn and share. Attendance is great, 15 to 25. They are utilizing their benefits and have created a social group that is so much fun!
–YOLANDA LOVAASEN
Recreation Wellness Coordinator, Westminster, TX
The training program was very complete and extremely well organized. I feel ready to begin teaching and confident because of the quality of instruction.
–KAREN A.
Very thorough – educational and very interactive. Celeste and Julie provided us with a lot of material, situations, and experiences as ammunition to teach our new classes.
–LINDA B.
Exceeded my expectations!!! I feel confident and also the benefit to our residence will be AMAZING!!!
—BRANDY J.